AFFILIATE & CONSULTANT TRAINING
Viv Customer Referral Program
The Viv Customer Referral Program rewards your customers for referring others to Viv, which in turn benefits YOUR business! Your customer refers a new customer and they each get $10! And YOU get a new personal customer! Here's everything you need to know.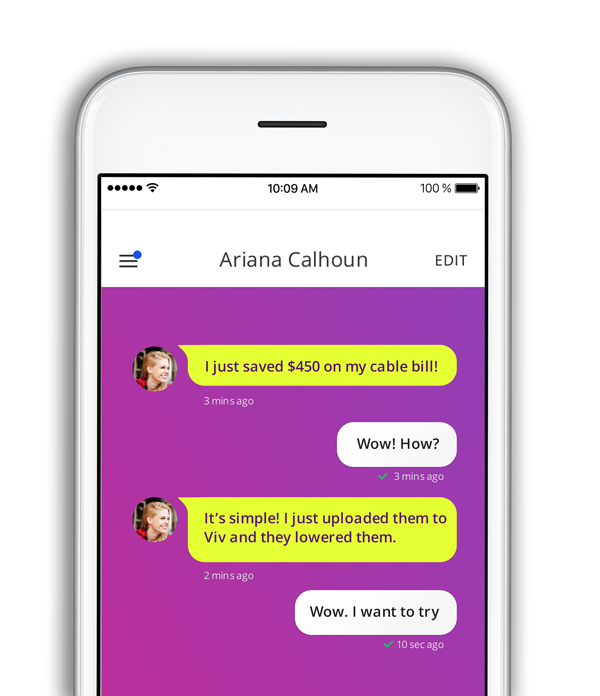 HOW DOES IT WORK?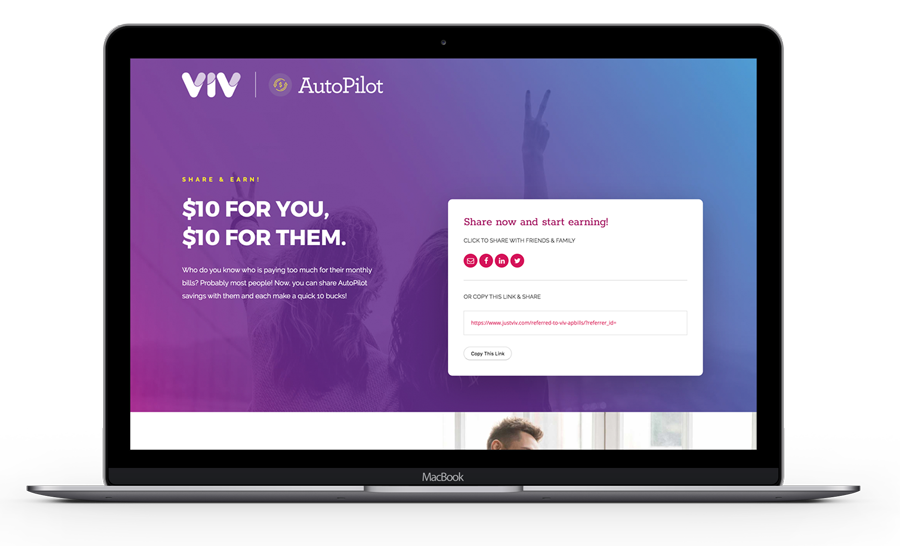 Any retail customer is eligible to participate in the referral program. Affiliates and Consultants are not eligible (because you're getting paid in even better ways!). Any of your retail customers can share a personalized link, which is how we will track referrals. Your customer can find that link lots of ways!
First, when we send them emails about their AutoPilot bill, we'll include a reminder that they can participate in the referral program with a link to show them how.
Second, they can log in to their customer account and they will see easy links at the top to refer people they know to our great money-saving services.
Third, we'll also share a link with them in an update email letting them know about this great program and other email reminders from time to time.
As soon as the person they share the link with becomes a customer, the referring customer and the new customer will each have $10 added to their Viv Credit balance.
What is Viv Credit? How does it work?
Viv Credit is a balance any customer can have with funds from referring customers. This credit is automatically applied to a customer's next bill—so your customer doesn't have to do anything to use this credit! Every time we bill a customer account, we will first check for any available Viv Credit and use that before billing the balance to the credit card we have on file for that customer. Viv Credit can be used for any Viv recurring service, such as AutoPilot or Lifestyle Services. It can't be used to pay for Life Consultant enrollment or renewal fees.
How many credits can a customer receive for the same customer?
One! The $10 credit is applied when someone becomes a customer for the FIRST time. Of course we hope that a customer uploads multiple bills and saves as much as they can with Viv, but the credit is applied one time per new customer. Once that customer finds savings with Viv they will want to earn their own referral credit for telling others! It's the easiest way to pay it forward.
How does the Referral Program benefit my organization?
This is the best part! Every time a customer of yours refers a new customer and they refer a new customer and so on and so on, each newly referred customer is treated as your personal customer in terms of Personal Customer Points and Fast Action Bonuses. That's right! They are ALL treated like your personal customers. No matter how many referrals you get, retail customers are all the same as if YOU personally enrolled every single one of them.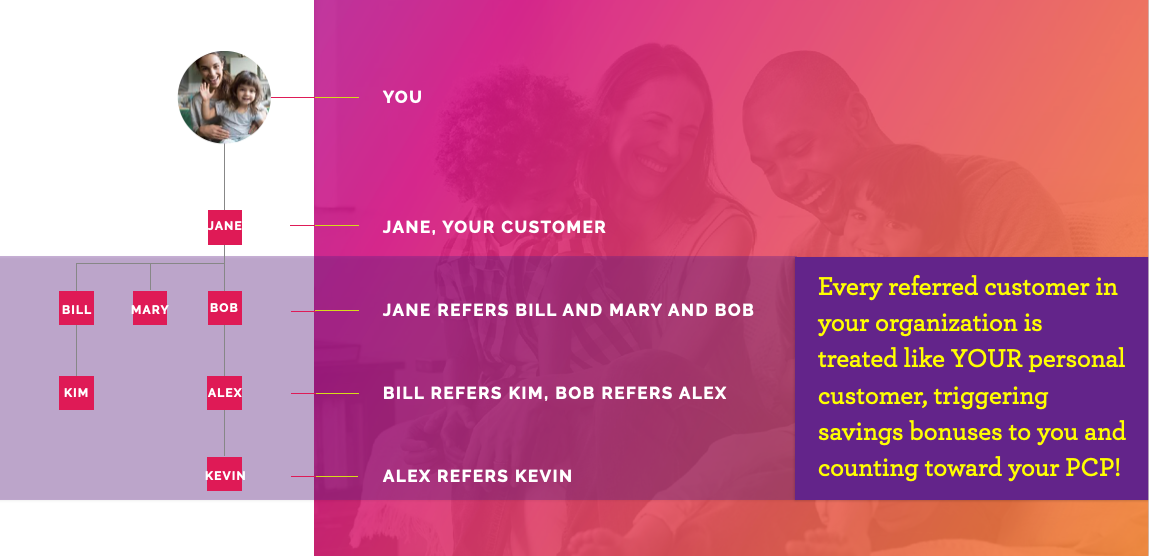 What if one of my customers decides to become an Affiliate or Consultant?
Great question! Any customer can always upgrade to become an Affiliate or Consultant, which is a great thing for your organization! If that happens, any of the customers referred by that customer will become their personal customers. Those customers will then be in your Level 2. Please note that the Fast Action clock for any new Consultant starts when they UPGRADE, so they'll have a full 60 days from the time they upgrade and they will need to acquire all new bills. The customers they referred previously won't count toward the bills needed for their Fast Action Saver Bonus.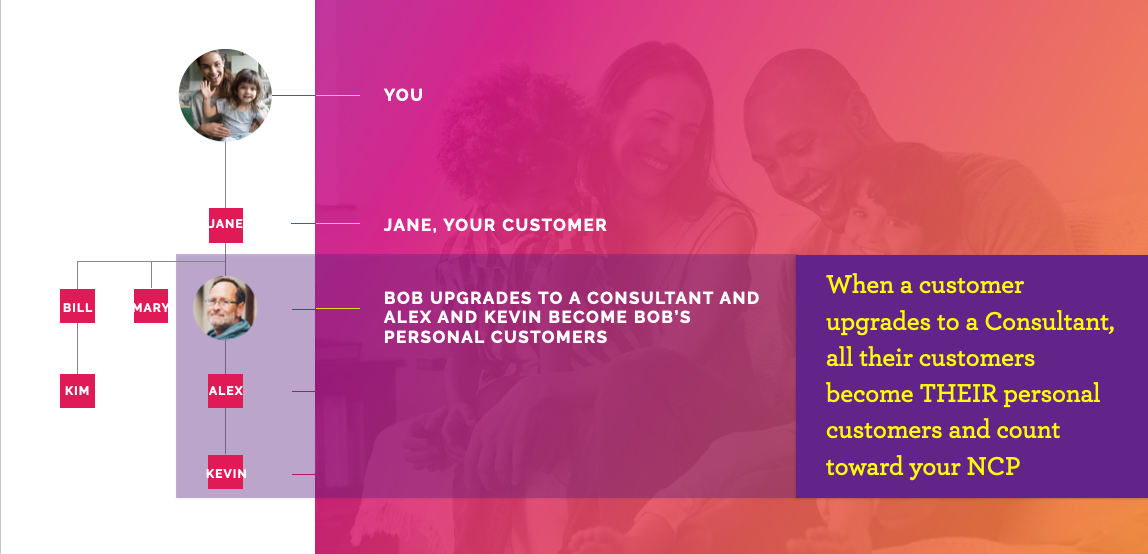 QUESTIONS YOUR CUSTOMERS MIGHT ASK YOU:
I just saved money with Viv, and I want to tell all my friends about it! Does Viv have a referral program?
Yes! We love how excited people get when they save money, and we want them to spread the word far and wide. Our Customer Referral Program rewards you AND the people you refer! For every new customer you bring in, both you and the new customer will have $10 in Viv Reward Credit added to your accounts.
You'll see a link at the bottom of most every update email we send you with a status on your savings. You'll also see your personalized referral link in your customer portal, right at the top of the home screen, along with your Viv Credit balance. Just login, and look for the banner that says "$10 for them. $10 for you."
How do I spend my Viv Credit?
It's automatic! Your Viv Credit will be applied to your next bill, so you don't even have to think about it or request that we redeem it! We will always check your Viv Credit balance before charging any other payment option.
How many credits can I receive from my newly-referred customer?
Each new customer you refer will generate $10 in credit to your friend and $10 in credit to you, regardless of how many bills they upload—even just one bill! Our Referral Program is designed to show you how much we appreciate you spreading the word about Viv. We know that once people find savings on their bills or see how much they benefit from our other services, they'll be back for more. And, just like with you, their savings ARE their reward! Thanks for sharing Viv!